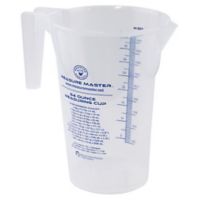 Liquid & Weight Measuring
We believe cannabis cultivation is both a science and an art. As botanical science, farmers and hydroponic technicians want to be sure they are applying the correct amount of nutrient, fertilizer, or pH balancer. We have convenient, portable scales with high accuracy, and large bowl scales for measuring larger capacity nutrient and fertilizer quantities.
Large, platform scales from measure master are great for heavier product measurement, and measuring buckets make it easy to know how much solution you're adding to your hydro and aeroponic reservoirs. For smaller applications, our droppers, pipettes and graduated cylinders make precise measuring reliable and repeatable.