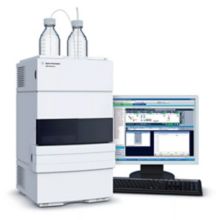 Lab Analyzers and Potency Testing
Whether you operate a large cannabis processing business that wants to bring testing under your roof, or operate a lab testing facility, we offer analyzing solutions and equipment. Hone your cannabis drying and curing processes using moisture analyzers. For perfect curing and mold prevention, using a moisture analyzer along each stage of your drying cycle can provide actionable data to your farmers.
The Agilent Infinity II Potency Analyzer uses state of the art lab technology to separate the components of your distillate or isolate, providing data on its cannabinoid concentrations. Potency analysis is a critical step on dosing and processing a consistent product. And Cascade's future-proof design ensures you can add additional hardware, detectors, and software updates. Be sure to go through the pre-setup checklist to ensure your environment is suitable for a commercial light chromatography analyzer.