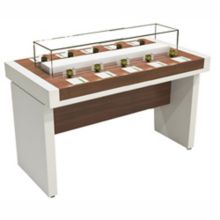 Dispensary & Retail Display Fixtures
Dispensaries and adult retail shops that offer CBD, medicinal cannabis and edibles not only display valuable buds from cultivators or dabs from processors – they display a form of art. Botanical operations that specialize in growing, drying and curing pristine flower appreciate when their product is put on display for potential patients and customers.
And customers shopping the display cases for quality flower appreciate being able to admire the trichome covered buds, grown with exacting care or checking out the color and consistency of a finely crafted extract, dab or shatter.
Attractive display cases compliment attractive products. Shop the best display cases for your brand and dispensary operation. Looking for something specific or need something unique? We have deep roots in supply chain solutions and have manufacturing partners that can usually craft exactly what you need.