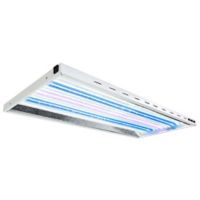 Commercial LED Grow Lights
LED grow lights are the perfect solution when trying to mitigate heat while using less power. LED lamps give off far less heat than many gas-filled, filament based light sources. This makes LED grow lights great for hemp and cannabis because the plants prefer lower temperatures, below 85°F. As LED lights are cooler, they can also be placed closer to the plants with decreased risk of scorching and terpene degradation.
Modern LED grow lights are sophisticated enough to product greater yields than HID or MH lights at lower energy costs. You can change the light wavelengths without changing a bulb, and LEDs have a very long lifespan. Every cultivator will have their go-to light source and each has its strengths and weaknesses. If you are just getting started and are building your grow room, consider our assortment of advanced LED grow lights to reduce your plant's water consumption, while maintaining competitive yields.