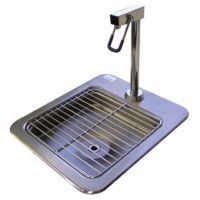 Sinks and Sink Accessories
Sinks are critical to any business where employees are handling product for consumption. Whether it's legally required in your area yet or not, it's a good idea to meet sanitation requirements as laid out by the American National Standards Institute (ANSI). Someday, the regulations and inspections are coming, so be prepared!
You should have at least one hand wash sink in each processing room. You'll need at least one sink for your janitorial room and staff. Cannabis processing rooms should have a sink for washing utensils, tools, and instruments. And of course, you need sinks in your bathrooms!
And don't forget to get a faucet for your sink!