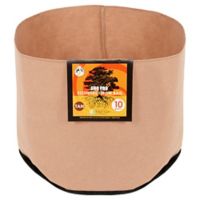 Pots, Planters, and Containers
Just as plastic pots and containers were a huge leap for cultivators due to their vastly lighter weight and durability compared to ceramic and stone pots, fabric potting containers are the next leap forward in gardening and cannabis cultivation. Although the upfront costs of fabric pots are usually a little higher, they quickly pay for themselves many times over.
Fabric pots allow for superior root growth. In addition to their inherent ability to drain excess water, they hold up extremely well to commercial wear and handling. When the roots of your plants reach the walls of your fabric pot, they sense the air on the other side and stop growing. This prevents "root circling," which tangles roots and exacerbates transplants. Instead, plants potted in fabric containers grow longer, stronger lateral roots. This greatly strengthens your plant, increases nutrient absorption and increases yields.
If you're looking for all the benefits of fabric pots, and would like to invest in something more biodegradable, root pots are for you. Root pots behave and come with all the advantages of fabric pots; however they are designed to break down over 3-5 seasons. As a biodegradable solution, they are great for the earth.
For cultivation business on a very tight budget, we also have traditional plastic pots. And for larger quantities of smaller or cloned plants, we offer nursery pots and molded plastic pots that are light-weight and sturdy.