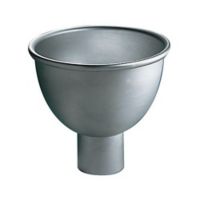 Lab Funnels and Buchner Funnels
Whether you are filtering processed cannabis extracts or making samples to send out for testing, we carry a wide range of funnels for use in a lab and cannabis processing operation. We have ceramic Buchner funnels in a variety of sizes and aluminum funnels for reducing product loss when pouring your flower into a grinder or extraction equipment.
Don't forget to pick up extra funnels for when you are between different cannabis strains to prevent cross contamination. And be sure to have several Buchner funnels on hand for when it's time to send a dirty funnel caked with plant residue, wax and lipids to be cleaned. Having extra, clean funnels on hand means your extraction operation can continue without waiting for clean funnels!
More
Large Funnels
Order your funnels today, and have them arrive right at your door. Ordering online is easy and fast, with more items shipped out in one to two business days. If you have any questions about our selection of funnels, or would prefer to place your order by phone, please contact Customer Service.