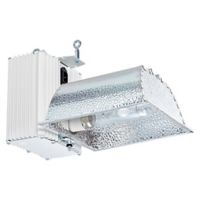 LEC-CMH Broad Spectrum Grow Lights
Cultivators continue to leverage science and engineering to simultaneously increase both the structural strength of a plant, as well as improve and accelerate its flowering cycle. LEC (Light Emitting Ceramic) and CMH (Ceramic Metal Halide) lamps have become one of the premium grow light solutions for growers wanting to expose their hemp and cannabis crops to indoor lighting that closely matches natural sunlight.
LEC / CMH lighting works by heating the ceramic core of the lamp. Since the ceramic tube can withstand higher temperatures than other lighting filaments, it is able to achieve a wider range of photosynthetic active radiation. The increased availability of these PAR wavelengths allows your hemp and cannabis plant to grow much like they do outside in natural sunlight. That means stronger plants, increased flowering, and bigger yields for cultivators.