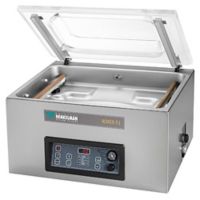 Food & Water Storage
Whether you are storing dry ingredients, cannabis flower on it's way to be shredded, or pre-mixed nutrient solutions – we carry several options to store your product safely. Our wide range of humidity packs from Boveda and Integra are superior in their ability to wick oxygen from inside your sealed containers. As far as containers, we carry commercial storage buckets and stainless-steel containers so you can find the best size and material for your business.
For cannabis cultivation businesses that specialize in very high quality, perfectly cured flower – we have vacuum sealers with gas-flush options. These premium vacuum sealers not only remove air from your package; they also provide you the option to flush the internal container with a more neutral gas such as Nitrogen or Argon. A gas flush along with an oxygen absorber will ensure maximum freshness and storage time for your transported or stored flower. Also works great with other ingredients used in your green house.