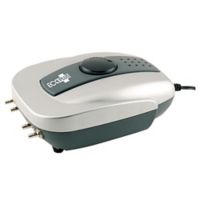 Water Aeration for Plants
Although plants can utilize some of the oxygen generated via photosynthesis, its roots are a primary mechanism for oxygen absorption. Providing your cannabis crop sufficient oxygen involves making sure your hydroponic system is properly oxygenated. This is generally achieved by good old fashioned bubbles, similar to how aquatic tanks are oxygenated.
Air stones are popular for producing oxygenating bubbles with reduced sound pollution. EcoPlus Hydrovescent air discs are another popular option to aerate hydroponic reservoirs and water sources. The air sent to your air stones or air discs comes from hydroponic air pumps by trusted brands like General Hydroponics, Danner, and EcoPlus.