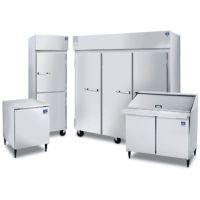 Commercial Refrigerator, Freezer & Ice Machine Options for Restaurants & Foodservice
As a cannabis processor and manufacturer, maintaining the shelf-life of your product is important to protect your investment until it can be shipped to a dispensary or retail store. With proper storage, cannabinoids can last a very, very long time. That cannot be said for the ingredients in your infused products.
Baked goods often include dairy, eggs and other ingredients that will perish far before the cannabinoids will. Butter, however, can be stored in the freezer for extended periods of time. At the end of the day, you want to minimize your cannabis' exposure to light, heat and air. Commercial refrigeration is instrumental in extending your product's shelf-life.