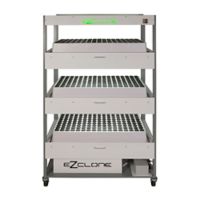 Cloning Systems
Cloning systems by EZ-Clone leverage a growing technique called "aeroponics." Using an aeroponic cloning system, enclosed roots are suspended in air and then misted by water from the sprayers below. The EZ-Clone aeroponic cloning system comes complete with everything to start your aeroponic garden.
Cloning collars support your cuttings while inside the HDPE plastic enclosure, a manifold with misters provides the roots of your clones with water. Water mister, adaptor, water pump, and reservoir are all included. For an added edge or to assist struggling clippings, be sure to add some cloning compound gel to the roots of your plants.;
Built with eco-friendly, highly recyclable HDPE plastic, and designed by skilled horticulture engineers – the EZ-Clone system is perfect for beginners and seasoned growers alike. Multiple sizes available.