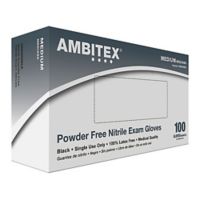 Nitrile Gloves
Regarded as the highest quality replacement for latex, nitrile continues to grow in popularity with disposable glove needs. Nitrile provides outstanding resistance against many commonly used chemicals, and is more resistant to puncturing than its latex and vinyl counterparts. Nitrile gloves are also latex and protein-free, making them safe for everyone to use without allergy concerns.
More
Synthetic Gloves
Select for the Latex Gloves that you need at Omegastore.com and you will find the type and size you need. Also shop for napkins, glove storage boxes, office supplies and more right here at Omegastore.com
Order Doillies and Placemats
Select your doillies or the placemats today and have your products arrive within a few days. Ordering online is easy and fast, most In-Stock items ship out in 2-3 business days. Get fast and friendly service at Omegastore.com.