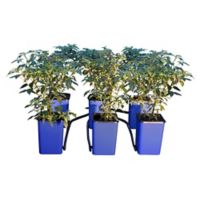 Growing Systems, Tents & Trays
You can get your hydroponic garden up and running quickly and efficiently with growing systems and tents from Omega. Expand your current cannabis cultivation operation with quickly and easily using commercial grow tray stands, sliding bench systems and trays. Trusted brands like Botanicare, Fast Fit, Flo-n-Grow and many more.
Everything you need to start sprouting new hemp plants, growing clones, and leveraging hydroponic grow systems available to fit every cultivators and gardeners style and scale. For total control of your plant's environment, our grow tents and grow labs completely enclose your hemp or cannabis plants within an environmentally controlled green house with highly reflective walls to maximize light dispersion.
We also sell extra cross bars for enclosed grow tents, trays, expansion kits and hydroponic supplies and systems.