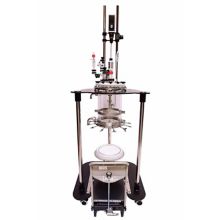 Filter and Decarb Reactors
Transforming expertly cured flower and trim into vapes and oils destined for infused edibles requires some serious science. Your scientist or lab technicians will thank you for purchasing high-quality filter and decarb reactors from Cascade Science. Each reactor is crafted using the highest quality materials, including borosilicate glass components by expert glassblowers in Germany.
After extracting crude oil from your flower, it is important to decarboxylate your oil before you begin the distillation process. Using a decarb reactor ensures all your THCA and CBDA is converted to THC and CBD. For cannabis processors who want to distill and separate cannabinoids, this is critical as each cannabinoid has unique boiling points. THCA has a lower boiling point than THC, so decarbing your oil prior distillation ensures your yields are as high as possible.
More
If you processing lab wants to produce CBD isolate, our filter reactor from Cascade Science is designed to do exactly that. As with all our reactors, our filter reactors are designed for precision and assembled with pharmaceutical grade components. This feat of engineering includes advanced safety components to protect both your lab staff, as well as your product. High-pressure release valves and stirrer elevation dials are just two of many features that improve the safety and ease of use for cannabis processors.