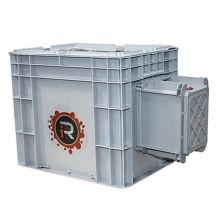 Commercial & Rotary Sifters
Rotary sifters are a great way to extract kief from fresh cannabis or leftover trimmings. Simply place your biomass into the tumbler inside the collection box, and turn on the rotating motor. The longer you run your tumbler, the more kief will be separated from the plant material and screened through the micron filter, however usually expected yields are removed within 30 minutes.
Our rotary tumblers are available in multiple sizes. Additional micron filters available on request! In stock and ready to ship at Omega Cannabis Supply.