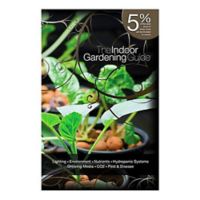 Cultivation Books and Literature
Whether you are getting started in cannabis cultivation, hydroponics, or indoor farming and gardening, we offer several books written to help provide the techniques and knowledge you need to get started. Books such as "Gardening Indoors with Soil & Hydroponics" and "Hydroponic Basics - The Basics of Soilless Gardening Indoors" dive into horticultural topics that are critical to cultivating a strong cannabis crop.
Author George F. Van goes into detail to discuss everything from lighting, humidity, CO2 levels, nutrients and much more. Each book is filled with vivid, colorful pictures to accompany the knowledge needed to start a successful hydroponic or solid-medium grow room. If you're new at soilless cultivation, want expert advice on indoor gardening, or are simply thirsty to learn more about horticulture – Omega has you covered with popular books that should be on every cultivator's bookshelf.